THE 2023 KIT CARSON COUNTY FAIR AND RODEO IS SCHEDULED FOR July 24th through July 29th
Greetings! The 2023 Kit Carson County Fair and Rodeo Royalty, Princess-Ava Dobler, Attendant-Clare Miltenberger, and Queen-Maddie Powell, would like to welcome you all to the 105th Annual Kit Carson County Fair and Rodeo, July 24th through the 29th.  This will be an action-packed week full of fun and laughter for all ages. Each day of the fair will be showcasing our hardworking 4-H and FFA members as they show off the projects that they have been working on throughout the year.  Make sure to stop in the project building to see all the exhibits and booths that members and clubs have built. Take a stroll through our beautiful Carousel Park and enjoy live entertainment and delicious food from local vendors.  For only 25¢ you can ride the historic Kit Carson County Carousel featuring the Wurlitzer Monster Military Band Organ.  This national historic landmark is 118 years old and fully restored. It can be ridden 11a.m. to 8 p.m. daily during the entire fair.  Maddie, Clare and Ava are extremely honored to be representing our great county of Kit Carson and would like to thank all our sponsors and everyone for the continued and generous support of the royalty program.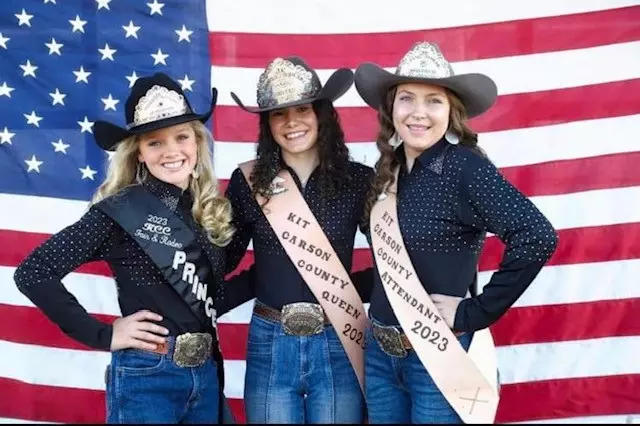 KIT CARSON COUNTY RODEO TBA CONCERT TICKETS
CLICK HERE to get your tickets on-line!
2023                           
Early ticket sales will begin Wednesday, at the ticket booth. The schedule is as follows, 
Wednesday, 10 am - 4 pm. 
Thursday, 10 am- 9 pm
Friday, 10 am- 9 pm
Saturday, 1 pm- 10:00 pm
Thursday

Friday

Saturday + Concert

Child (6-14)

$5

Child (6-14)

$5

Child (6-14)

$10

Senior (65+)

& Veterans

$8

Senior (65+)

& Veterans

$8

Senior (65+)

& Veterans

$15

Adult

$10

Adult

$10

Adult

$20

Bull Pen Child

$5

Bull Pen Child

$5

Bull Pen Child

$10

Bull Pen Adult

$20

Bull Pen Adult

$20

Bull Pen Adult

$25
CHILDREN UNDER 5 ARE FREE
Have questions? Contact 719-346-8133 x 304
Available at the ticket both on the East side of the grand stands